5nine Software With Kaspersky Lab to Launch Joint Solution 5nine Cloud Security With Kaspersky Anti-virus Engine for Windows Server 2012 R2
June 19, 2014 Jon 0 Comments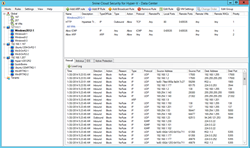 Boston, MA (PRWEB) June 03, 2014
5nine Software, a leading solution provider of security and management solutions for Windows Server with Hyper-V virtual environments, jointly with Kaspersky Lab, the worlds largest privately held vendor of endpoint protection solutions, is announcing the release of a product for virtual environment security 5nine Cloud Security for Hyper-V with Kaspersky Anti-Virus Engine.
New Windows Server 2012 R2 operating system provides a scalable, dynamic, multiuser-oriented and cloud-optimized infrastructure for enterprises and service providers, with multiple improvements in virtualization, resource management, access control, application protection, and many other environmental security features.
Hyper-V hypervisor has become an integral part of Microsoft Windows Server. Thanks to the Hyper-V Extensible Switch architecture, developers are now able to create their own modules plugged into Hyper-V to modify or expand the basic packet analysis, filtering and forwarding functionalities. These extensibility options have been leveraged by 5nine Software during the design of the new solution, ensuring quick and seamless integration of 5nine Cloud Security with Kaspersky Anti-Virus Engine into Windows Server-based infrastructures of any size and complexity.
5nine Cloud Security for Hyper-V is a comprehensive solution for protection of Windows Server with Hyper-V virtual environments and Microsoft Azure, fully compliant with legal regulations and best practices of the IT security industry. Now the users of Windows Server with Hyper-V will be able to take advantage of the Kaspersky Lab technologies within the comprehensive 5nine Cloud Security solution, which incorporates agentless SDN Virtual Firewall, Antivirus and IDS as extensions of the Hyper-V Switch.
Virtual environments allow administrators to lock up computations within one virtual machine, which can provide some protection from traditional malware penetration (via USB ports, optical drives, etc.). However, network-based attack vectors such as email and Internet cannot be defeated by standard protection techniques.
An example of such a threat is bodiless malware (such as worms) which can propagate across the network as data packets. Having penetrated the corporate perimeter, a worm can remain inside the network for a long time, infecting one virtual machine after another.
Thanks to the implementation of Kaspersky Labs protection technologies (Kaspersky Anti-Virus SDK 8), 5nine Cloud Security solution ensures comprehensive protection of both host OS and guest OS from file, network, and web-based threats.
Virtualization provides remarkable economic advantages, as well as better manageability and fail-safety, said Veniamin Levtsov, Vice President, Corporate Sales and Business Development, Kaspersky Lab. However, virtual IT infrastructure becomes a potential target for cybercriminals due to the fact that security of this environment if often overlooked. This is why the demand for protection solutions designed specifically for virtual systems has never been higher. We are pleased to collaborate with 5nine Software and Microsoft to provide protection to the users of virtual solutions worldwide. Following the implementation of the joint 5nine Software and Kaspersky Lab solution, users will be able to:

Perform agentless scanning using Kaspersky Labs solution;
Provide Agentless Virtual Firewall protection of multi-tenant Microsoft Cloud environments, Virtual Machine isolation and Security Groups, utilizing the extensibility of Windows Server 2012 Hyper-V Virtual Switch;
Comply with international personal data protection regulations and best practices. such as PCI-DSS and many others;
Perform incremental scans which run 50 to 70 times faster than usual scans;
Prevent antivirus storms;
And much more.
The product itself is installed on the host machine, helping to avoid performance loss and increasing both virtualization density and the Microsoft Server 2012 with Hyper-V ROI.
Microsoft remains committed to helping customers ensure the safety and reliability of their IT environments, said Brian Hillger, Director Server and Tools Marketing, Microsoft. 5nine Cloud Security with Kaspersky Engine for Windows Server 2012 R2 extends the built-in security of the Hyper-V Extensible Switch to help meet the ever growing data security requirements of todays customers in highly virtualized and cloud environments.
At 5nine we value our users highly said Dr. Konstantin Malkov, CTO, at 5nine Software. In association with Kaspersky Lab, we are very excited to make the Windows Server Hyper-V virtualization platform even more secure and compliant with government regulations and global IT Security best practices.
About 5nine Software

Similar Posts: