Aleratec Introduces 5-Target Hard Drive Duplicator and Sanitizer that Works with Both IDE and SATA Drives
September 1, 2011 Jon 0 Comments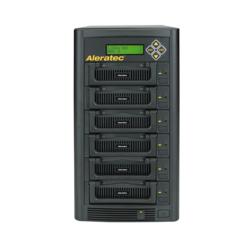 Chatsworth, CA (Vocus/PRWEB) March 02, 2011
Today, Aleratec introduced its 1:5 HDD Copy Cruiser IDE/SATA ? Aleratec?s first tower HDD duplicator and sanitizer that is compatible with both IDE and SATA hard drives.
The 1:5 HDD Copy Cruiser is a powerful, standalone hard drive duplicator that can create up to five perfect clone hard drives simultaneously. It can also reliably wipe all traces of data from up to six hard disk drives at a time using Secure Erase, a National Institute of Standards and Technology (NIST) 800-88 approved method for clearing hard disks. This feature uses fast, secure algorithms created by the drive manufacturer and is built into most modern SATA hard drives as well as some IDE hard drives. If Secure Erase is not supported, the 1:5 HDD Copy Cruiser IDE/SATA can still sanitize drives with a choice of three comprehensive overwrite algorithms: a one-pass wipe, a three-pass wipe with verify, or a powerful seven-pass wipe which follows the Department of Defense 5220.22-M sanitization recommendation. The unit is compatible with 2.5? and 3.5? internal SATA hard disk drives, as well as 3.5? internal IDE hard drives. It will even work with 2.5? internal IDE hard drives when used with optional adapters (P/N 350116), sold separately.
For the ultimate in flexibility, you can copy from either a SATA or an IDE source drive to any combination of SATA and IDE targets. You can also sanitize any combination of SATA and IDE drives at the same time.
?While manufacturers have largely stopped making IDE hard drives due to the emergence of SATA, there are still hundreds of millions of IDE drives that are either still in use today or that need to be decommissioned properly through sanitization," said Perry Solomon, President and CEO. ?The Aleratec 1:5 HDD Copy Cruiser IDE/SATA was designed for our customers who want a duplicator and sanitizer that works with both IDE and SATA hard drives, for the greatest flexibility.?
This essential tool for building or upgrading computer systems is quick, easy and best of all – requires no computer or extra software to run. For professionals who want total control of each process, the 1:5 HDD Copy Cruiser IDE/SATA is a fully-featured solution to copy hard drives with advanced options such as Compare, Quick Compare, PreScan Source and Fast Copy, just to name a few. This flexibility and control make this device the perfect tool for IT departments, businesses and government agencies in need of a reliable and complete solution for hard disk drive management.
Key Features

Similar Posts: