Aleratec Launches the 1:16 USB 3.0 Copy Cruiser Mini Portable Flash Drive Duplicator
March 3, 2014 Jon 0 Comments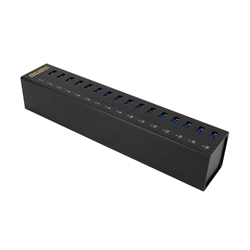 Chatsworth, California (PRWEB) February 27, 2014
Aleratec Inc., award-winning designer, developer and manufacturer of Portable Device Management (PDM) charge/sync products for mobile devices and professional-grade duplicators for hard disk drives, USB flash drives and Blu-ray/DVD/CD discs, introduces the 1:16 USB 3.0 Copy Cruiser Mini, a powerful yet portable solution for cloning large numbers of flash drives. Ideal for educators, trainers, sales professionals or any person who travels as part of their job, the 1:16 USB 3.0 Copy Cruiser Mini duplicates up to 16 USB 3.0 or USB 2.0 flash drives yet is small enough to fit in a laptop bag or briefcase.
"USB flash drives are ideal tools for storing and transferring lectures, presentations and other data but copying multiple flash drives, especially while traveling on business, is difficult," notes Perry Solomon, Aleratec President and CEO. "The 1:16 USB 3.0 Copy Cruiser Mini makes perfect copies of flash drives and allows users to make last-minute changes to materials without spending hours re-copying each flash drive."
The 1:16 USB 3.0 Copy Cruiser Mini incorporates many of the advanced technologies of Aleratec's larger USB Flash Drive Duplicators, including Aleratec's easy-to-use Software Suite. This intuitive and flexible interface can duplicate directly from image files or a flash drive or duplicate from selected files and folders on their hard drive. The software's display eliminates guesswork by showing the status of each copy and number of copies completed.
Aleratecs 1:16 USB 3.0 Copy Cruiser Mini is designed for USB 3.0 but is also backward compatible with USB 2.0 and 1.1. Features include:

Similar Posts: