Andrew ACP Comrie-Picard and Ford Racing Team ONeil Fiesta clinch 2014 2WD Rally America Championship with NEFR Win
October 2, 2014 Jon 0 Comments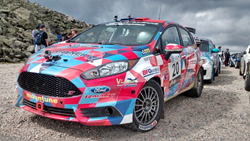 Sunday River, Maine (PRWEB) July 25, 2014
Andrew ACP Comrie-Picard and co-driver Ole Holter won the New England Forest Rally this past weekend in the hyper-competitive two-wheel-drive class, and clinched the Rally America national class championship with two events still remaining on the calendar.
The Team ONeil Motorsports Ford Racing Fiesta ST won the event in convincing style, winning 10 of the 13 stages, and leading the rally throughout.
We came here with a plan to go out fast and manage a lead on the way to the win, said Comrie-Picard, and it went exactly according to plan. The car was perfect and Ole (Holter) was outstanding in the co-drivers seat, so all that was left was for me to push as hard as we needed to in order to win the event and get the Championship.
The result is especially outstanding as the car is still under development and in its first year of competition.
Rally is the ultimate endurance test for any street car, said Tim ONeil, manager of Team ONeil Motorsports, and while we knew the Fiesta ST was fast right from the factory, turns out its just as tough, and weve had no issues. Its just been 100% reliable.
The win mathematically clinches the 2014 Rally America National 2WD Drivers Championship for ACP and the Co-Drivers Championship for Holter, with two of the eight races on the calendar still to run. ACP/Holter and the Ford Fiesta were on every podium for the first six events, with three wins, two seconds, and a third.
"Were very proud of ACP and Team ONeil for this exceptional accomplishment," said Scott Denby, marketing and strategy manager, Ford Racing. Clinching the championship with consistent podiums and no DNFs is a testament to both the teams excellence and the Fiestas reliability and speed in competition.
The Team ONeil Motorsports crew kept the car in top form with no issues all weekend. Technicians are Pascal and Marcel Belperron, Jarred Ainsworth, Elliot Garneau, Jesse Emerson, Steve Marcotte, and Shawn Whiting; team managers Martin Headland, Chris Cyr; and team principal Tim ONeil.
What a great crew! said Holter, Ive been rallying for over 15 years and you cant overstate the importance of a great team; these guys are the best and work miracles in service.
The Fiesta ST is equipped with safety and performance upgrades for rally competition, including beefy BFGoodrich tires, Mountune engine mapping and ancillary components, a Mishimoto cooling package, Hawk Performance brakes, Vision X lighting, and top-of-the-line Recaro racing seats.
Our long-time partners deserve a huge amount of credit for this win and this Championship. For example, in six events we havent had a single tire failure, which is almost unheard of in these rough rally conditions. Thats thanks to the durability of the BFGoodrich tires, said Comrie-Picard.
The New England Forest Rally is one of the classics on the Rally America calendar, with some stages that have been run in competition for decades. This years event featured both new and classic stages, some of which returned to the rally after years off the schedule.
Comrie-Picard and Holter are now preparing for the Ojibwe Forest Rally, in Detroit Lakes, Minnesota, on August 22-23. With power-sapping sandy roads and many stages run in the dark, its a challenging rally that requires power, great tires, and huge auxiliary lights on the cars.
The Team ONeil Rally School features Ford Fiestas as training cars and offers a great way for new competitors to learn the craft of rally driving and then compete in fast, reliable cars on North American rally events.
Rally car racing is considered the extreme sport of automobile racing and is often described simply as "real cars, real roads, real fast." This all-season motorsport sees drivers and their co-drivers take modified road cars to the limit as they achieve blistering speeds over courses that cover hundreds of miles of gravel, dirt, or snow-covered roads.
The Rally America series is broadcast on NBCSports. Check local listings for air times.
ABOUT THE DRIVER: Andrew Comrie-Picard has won the North American Rally Championship, has held the FWD record at the Pikes Peak International Hillclimb, is an X Games Rally medalist, and has won his class in the Baja1000. When he isnt racing, Comrie-Picard works in film and television as a writer, host, producer, and precision driver. He lives in Los Angeles, California.
ABOUT TEAM ONEIL: Team O'Neil Rally School, located in Dalton, New Hampshire, has been teaching rally and safety driving techniques since 1997. On 600 acres in the White Mountains, Team O'Neil is the premier location to learn how to drive on loose surfaces. Five-time North American rally champion Tim O'Neil has hand-built the roads to mimic all the situations he has come across in his decades of rallying, and has trained every winner of the Rally America Rookie-of-the-Year award, including Ken Block.
—
The ACP Rally program is made possible by: Ford Racing (http://www.fordracing.com), Team ONeil Rally School (http://www.teamoneilmotorsports.com), BFGoodrich (http://www.bfgoodrichtires.com) and many more sponsors and partners.
—
PHOTOS: Jordan Apgar/BuildRaceParty
Similar Posts: