Business Leaders See Collaboration as crucial, but Are Confused by the Rapid Convergence of Tools
March 26, 2014 Jon 0 Comments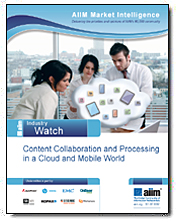 Silver Spring, MD (PRWEB) March 25, 2014
New research by AIIM has revealed the importance of collaboration in business, with 93 percent of business leaders believing internal collaboration is either crucial or very important to what they do, and 59 percent holding the same to be true of external collaboration.
The new study, Content Collaboration and Processing in a Cloud and Mobile World, by independent information management analysts AIIM, looked to assess how organizations have managed two growing collaboration needs: quickly and easily linking external users into the content-sharing environment and giving users access to collaborative content from their mobile devices.
Eighty-nine percent of respondents said that a formal collaboration system was a vital piece of infrastructure, yet 54 percent found the rapid convergence of collaboration and social tools to be very confusing. External collaboration was particularly problematic, with 71 percent feeling their organization has shortfalls in technical support for external and four in ten feeling strongly that external collaboration is badly supported.
Most organizations now have a large ecosystem of collaborators, including external partners and third parties as well as internal staff, said Doug Miles, Director Market Intelligence, AIIM. But managing the tools required for such collaboration can be a challenge. While IT support for collaboration beyond the firewall has made great advances, organizations appear to be lacking in the support required to really reap the benefits of collaboration.
The three biggest strategic drivers for improved collaboration were general productivity (47 percent), knowledge pooling (46 percent), and pulling together a dispersed workforce (36 percent). It was also seen as important to speeding up review processes, customer responses, and project completions.
The most important features to support collaboration, according to the research respondents, were sharing of documents (74 percent), workflows for comments and approvals (49 percent), and content access from mobile devices (37 percent).
Document and content sharing is highly likely to involve external collaborators beyond the firewall, yet traditional onsite systems are deliberately set up to be secured against access to those outside of the business. This means many users will turn to consumer cloud file-sharing services such as Dropbox, Skydrive, i-Cloud, Google Drive and YouSendIt.
Such consumer file-share and sync services are banned in more than half (56 percent) of organizations, with 27 percent actually restricting access. Only 23 percent currently provide an approved business grade alternative.
The convenience and ease-of-use of consumer file-share and sync services make them very attractive for collaboration, said Doug Miles, Director Market Intelligence, AIIM. But such tools have security implications and organizations must look to provide flexible and easy-to-use collaboration functionality across the business if they really want to discourage use of consumer tools.
The research for Content Collaboration and Processing in a Cloud and Mobile World was underwritten in part by AvePoint, EMC, HP-Autonomy, Hyland, Kofax and Seismic. The full report can be downloaded from the AIIM website, http://www.aiim.org/Research-and-Publications/Research/Industry-Watch/Collaboration-2014
The survey was taken using a web-based tool by 464 individual members of the AIIM community between Jan 24, and Feb 11, 2014. Invitations to take the survey were sent via e-mail to a selection of the 80,000 AIIM community members.
About AIIM

AIIM has been an advocate and supporter of information professionals for 70 years. The associations mission is to ensure that information professionals understand the current and future challenges of managing information assets in an era of social, mobile, cloud and big data. Founded in 1943, AIIM builds on a strong heritage of research and member service. Today, AIIM is a global, non-profit organization that provides independent research, education and certification programs to information professionals. AIIM represents the entire information management community, with programs and content for practitioners, technology suppliers, integrators and consultants.
# # #

Contact:

Libba Letton

Sarum PR

libba(at)sarumpr(dot)com

(512) 949-9491
More Files Drive Press Releases
Similar Posts: