Christopher Buckley, Former Bush Speechwriter and Best-Selling Author, Delivers 5th Annual George and Barbara Bush Lecture at University of New England
October 4, 2014 Jon 0 Comments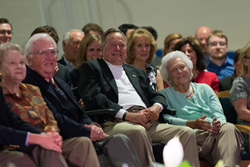 Biddeford, Maine (PRWEB) September 19, 2014
Christopher Buckley, former vice-presidential speechwriter for George H. W. Bush and acclaimed author, presented the University of New Englands 5th Annual George and Barbara Bush Distinguished Lecture tonight at the Harold Alfond Forum on UNEs Biddeford Campus.
Both the former president and first lady attended, as well as members of the UNE community and public.
UNE President Danielle N. Ripich, who offered welcoming remarks, announced that the Bushes have recently made a $ 500,000 gift to UNE. The donation will support programming associated with the universitys George and Barbara Bush Center, which opened on UNEs Biddeford Campus in 2008. It will also facilitate further collaboration between UNE and the Bush Presidential Library at Texas A&M University.
We are immensely grateful for this generous donation that provides sustaining support for the annual Bush Lecture Series, the exhibits in the Bush Legacy Library, and other programming, Ripich said. The impact of the Bush family goes beyond their generosity to the compassion they have shown
Ripich announced that UNE will be providing the Maine chapter of the Barbara Bush Foundation for Family Literacy with office space on UNEs Portland Campus.
Similar Posts: