CloudVDI Launches Virtual Desktop Service Offering SMB Clients Virtual Windows OS and Software Access and Power on any Device
July 12, 2014 Jon 0 Comments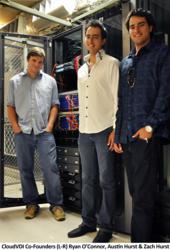 Tampa, FL (PRWEB) June 22, 2012
CloudVDI, LLC today launched their Virtual Desktop subscription service offering businesses the ability to run Windows OS and compatible software on any CPU and mobile device through the companys hosted servers. The Virtual Desktop service allows businesses to set up and manage employee computing resources on an extremely cost-effective basis, as well as maximizing productivity and control at a price ranging from $ 29 to $ 79 per user per month, with a $ 109 monthly plan that also includes a complete 10Zig Zero Client system. CloudVDI was founded by Ryan OConnor, Austin Hurst and Zach Hurst and is headquartered in Tampa, FL.
CloudVDI brings the advantages of enterprise-class cloud technology and services to Small and Medium Businesses (SMB) that are normally only available, due to significant cost and complexity, to very large organizations. Our Virtual Desktop provides great benefits for SMBs giving them access to an enterprise-grade solution in a fully-managed fail-safe model, said CloudVDI co-founder Zach Hurst.
CloudVDIs tiered services model allows managers to allocate, as needed, power and capacity to users as needed and avoid overspending. SMBs can implement technology virtually through CloudVDI that costs organizations millions to host themselves. Our clients are benefiting by transforming a potentially massive capital expenditure into a manageable monthly operating expense, said CloudVDI co-founder Ryan OConnor.
With CloudVDI a manager can determine employee computing resources and access for example, an employees Virtual Desktop could run Microsoft Office, AutoCAD, Adobe Creative Suite and Maya and have the full access and functionality of their working desktop on their iPad or other mobile device significantly enhancing mobile productivity. At the same time the manager can enforce productivity parameters such as allowing two hours of FaceBook access daily, but no Farmville.
For Virtual Desktop, CloudVDI coupled their proprietary software with Citrix Receiver to create a high performance universal client that enables on-demand delivery of CloudVDI-hosted Virtual Desktops to any user or deviceincluding PCs, Macs, tablets and smartphones. Security is assured through the Citrix Access Gateway SSL VPN, providing CloudVDI customers secure and user-specific remote access to their desktops by protecting all network traffic.
Ryan OConnor and CloudVDI engineers built-out their own proprietary network infrastructure. Each CloudVDI rack includes Dell Servers, Citrix Netscalers, Juniper Switches, Routers and Firewalls and 64 TB of storage. CloudVDI chose Hostway Corporation, a leading provider of hosting services to over 600,000 direct customers and 2 million partner customers, for hosting due to their carrier-class accessibility, reliability and redundancy.
According to CloudVDI co-founder Austin Hurst, With 80 percent of the Fortune 100 using Citrix, Gartner estimating the hosted virtual desktop market worldwide to reach 49 million units in 2013 and Apple announcing that 93 percent of Fortune 500 companies are testing or currently using iPads in the workplace the time is now for SMBs to make their desktops virtual and mobile.
CloudVDI differs from current industry solutions by hosting the solution for clients versus the client having to build and manage their own solution using a local server environment. This extends access and security outside of the local area network and provides employee access to work-issued desktops outside of the office from multiple access points. Furthermore, users can operate higher-end software from thin clients and tablets.
Monthly subscription plans follow, and are customizable depending on resources desired.

Similar Posts: