Commonwealth Connections Academy Team Becomes First Cyber School Finalist at National Engineering Challenge
May 13, 2012 Jon 0 Comments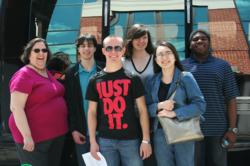 Harrisburg, PA (PRWEB) May 02, 2012
Commonwealth Connections Academy?s state-winning Real World Design Challenge team placed second in the country at the 2012 National Real World Design Challenge, topping 28 other teams.
Commonwealth Connections Academy is a leading virtual public charter school that serves students in grades K-12 from across Pennsylvania. Commonwealth Connections Academy was the sole virtual school to qualify and participate in this year?s National Competition, and is also the only virtual school to place within the top three nationally in the four-year history of the Real World Design Challenge.
An annual and nationally recognized program, the Real World Design Competition is sponsored by a public-private partnership (including partners such as Cessna Aircraft and NASA Langley Research Center) with the goal of increasing Science, Technology, Engineering and Mathematics (STEM) education and providing students access to real world engineering experiences. This year, 45 total states, independent states, and territories participated in the Challenge, while 30 total teams moved on or participated in the National Competition.
Challenged to create an aerodynamic and energy-efficient sports aircraft, the Commonwealth Connections Academy team utilized engineering software to develop the winning blueprint, deemed viable in the real world. As students of a cyber school, the team members met only virtually to engineer their prize-winning craft.
The Commonwealth Connections Academy Innovators ? Jacob Antonio Whipkey, Richard Ciora, Darnell Holmes, Athena Kao, Mikayla Nester, Devin Slaugenhaupt, and Courtney Thurston? are freshmen, sophomores, juniors and seniors from all areas of Pennsylvania. The team is led by Athena Kao, a junior from Phoenixville, PA, who also participated on Commonwealth Connections Academy?s state winning team in 2010-11.
Gathered in Harrisburg before heading to Washington, D.C., the team was excited, although readily admitted they were a bit nervous, even though some members were presenting at Nationals for the second time.
?We?re confident that our [aircraft] design will work, but still a bit nervous as the design and our team are subject to the opinions of the judging panel,? explained Darnell Holmes.
On Friday, April 20 the team had the chance to meet in person, as they excitedly gathered at Commonwealth Connections Academy?s Harrisburg teaching center with their team mentor and Commonwealth Connections Academy chemistry teacher Ann Camp, before traveling to D.C. for the presentation and judging of their National design.
?The team and I both knew that Commonwealth Connections Academy had a very strong design going into the Challenge,? said Camp. ?But knowing this beforehand didn?t dilute my pride or extreme excitement for the students when our team name was announced Saturday afternoon as a finalist to participate in the championship round ? held at the National Air and Space Museum.?
Camp continued, ?The team has proved through their tireless effort and innovation that each student has a bright future ahead in whatever career they choose. Whether they start their college or professional career in a STEM-related field or go down another avenue, participating in real world challenges like this prepares students to be critical thinkers and problem solvers in any capacity, industry or environment.?
As the virtual school students live in different regions of the state, the team utilized interactive Connections Academy LiveLesson
Similar Posts: