Highly Reliable Systems Release The Network Connected Removable Hard Drive
September 14, 2011 Jon 0 Comments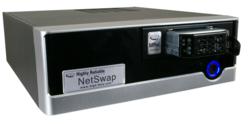 (PRWEB) August 11, 2011
Highly Reliable Systems based in Reno, NV has released a low cost backup device intended for simple server and virtual machine (VM) backup with the user?s choice of software. The NetSwap utilizes a fully enclosed removable hard drive with a back plane connector rated for high frequency plug/unplug cycles. The devices connect via Gigabit Ethernet and use either a standard network share (NFS/ Windows) or iSCSI. Backup and restore speeds typically exceed conventional Network Attached Storage (NAS).
Darren McBride, CEO for the company says ?conventional network appliances have fixed internal hard drives or RAID drives with exposed SATA connectors that are intended to be replaced only upon failure. By contrast, the NetSwap system fully encloses the removable drives in metal for protection during frequent media swaps. This makes it possible to create multiple transportable copies of the network backup while our iSCSI and NAS swap software insures consistent drive reconnection.? McBride says ? the product is backup software agnostic, allowing customers to choose their own backup software?.
The NetSwap is available in several models. Users can choose removable drive trays that house either a single 3.5? or dual 2.5? hard drives. The 3.5? drive configuration allows up to 3TB of raw storage and the dual 2.5? removable media allows 2TB (1TB when mirrored). A model that interfaces to the firm?s 9TB removable RAIDPac media is slated for release in August of 2011. Configuration is done via a standard web browser with a menu that is designed to look like familiar router interfaces.
Mr. McBride says ?the NetSwap product accommodates customers who have data sets that are too big to send over the Internet or who have security concerns?. Units are shipping now and pricing begins at $ 649 MSRP.
For more information go to http://www.High-Rely.com. Highly Reliable Systems 1900 Vassar St. Reno, NV 89502
# # #
Similar Posts: