Horizon DataSys Taps into Emerging Korean PC Market with Customized PC Time Machine
December 7, 2013 Jon 0 Comments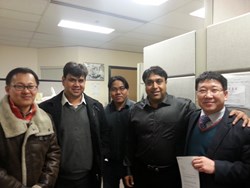 Blaine, WA (PRWEB) November 27, 2013
Horizon DataSys, the leading developer of non-restrictive desktop security software, is pleased to announce two new strategic partnerships in Korea. Two large OEM / managed service providers, Oksun and OZ Networks, have chosen to use Horizon DataSys RollBack Rx technology as a key component of their product offerings. RollBack Rx is a robust means of quickly recovering from any software corruption that may have occurred on our client machines, says Jong Ha Park, CEO of Oksun.
The Korean market is at the cutting-edge of the latest technology trends and has among the largest number of PC users. Oksun required a customized software utility that could restore PCs to factory settings. Using our RollBack Rx and drive imaging technology, Horizon DataSys was able to design a unique build that met these new clients specified requirements. We look forward to building stronger relationships with our overseas OEM partners. Korea is a great market for us, states Lyle Patel. Our partners already have strong relationships with many household brands such as LG, OKI, and even Samsung. We look forward to forging closer ties with our partners in meeting the needs of the Asian market.
This news comes shortly after Horizon DataSys announced its latest software release of RollBack Rx Version 10.2. Our RollBack Rx technology is light years ahead of the closest competitors. We empower PC users to enhance their computing experience, explains Gonzalo Ortiz. RollBack Rx converts a computer into a PC Time Machine essentially making PCs crash proof.
RollBack Rx is a software program that allows users to instantly restore all their hard drives back to any number of earlier points in time (or "snapshots"). RollBack Rx v10.2 has been optimized for full integration with Windows 8.1 and is intended to replace Windows' Refresh and Reset option with a more comprehensive recovery.
For educational markets, Horizon DataSys has recently launched its latest version of Drive Vaccine, which is the leading reboot to restore software designed for public access computer environments.
About Horizon DataSys:

Horizon DataSys Corporation is a privately held software company headquartered in Blaine, Washington which develops, publishes, and distributes branded computer software applications specializing in end-point PC management, OS integrity, and instant restore.
Related Recover Hard Drive Data Press Releases
Similar Posts: