Industry Leaders Drive SPIE Photomask Technology Conference
November 10, 2013 Jon 0 Comments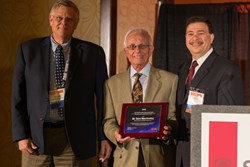 Monterey, California, USA (PRWEB) September 19, 2013
SPIE Photomask Technology won praise from attendees for the strong technical program at the 33rd annual event this year in Monterey, 10-12 September. Sponsored by SPIE, the international society for optics and photonics, the event is the industrys largest meeting of semiconductor mask makers. Approximately 440 international attendees were there to exchange the latest progress on the industrys biggest challenges such as EUV, OPC/simulation, contamination and durability.
Symposium Chair Thomas Faure (IBM Corp.) and Co-Chair Paul Ackmann (GlobalFoundries) were among participants who said they were very pleased with the quality of the talks. Sessions covered current technical issues, emerging technologies and future trends, with reports on research findings helping to inform discussions on how to meet the emerging technical challenges facing the industry.
Among technical highlights were a keynote talk by Michael Mayberry, Corporate VP of the Technology and Manufacturing Group and Director of Components Research at Intel Corp., on materials, functional compatibility, performance-power metrics and cost issues needing to be solved to meet needs of the future; and a panel discussion on "Big Bad Glass: Will It Return?" that considered whether changes in the wafer landscape and EUV require the move to larger glass, what the cost of not doing so would be, and whether another technique would support the technology.
The community honored two of its members for important innovations.
Constantine (Deno) Macricostas was presented with the Photomask 2013 Lifetime Achievement award. Macricostas, who founded Photronics in 1969, cited for his dedication to customer service, strategic acquisitions and partnerships. Today, Photronics has manufacturing operations in Europe, the U.S., Taiwan and Korea, with expertise from IC to FPD mask-making in all geometries.
Tadahiro Takigawa of ASML Japan was awarded the 2013 BACUS Prize in recognition of his contributions toward development and commercialization of high keV vector scanned beam photomask lithography tools. Close to half of all masks are now made with 50 keV VSB technology developed or influenced by Takigawa, first at Toshiba Machine Corp. and subsequently at NuFlare.
Outstanding students were recognized as well.
Bei Yu and Jhih-Rong Gao, PhD students at the University of Texas at Austin, received the 2013 BACUS Scholarship. They are investigating multiple patterning, DFM, E-beam lithography, RET, layout planning and networks-on-chip, and have produced 30 papers since 2008, on layout fracturing, self-aligned patterning and floor planning techniques to help extend device scaling to 10 nm and beyond.
Best Poster Awards went to:

Similar Posts: