Inexpensive USB 2.0 To SATA/IDE Adapters Now Released By Hiconn Electronics : Sata HDD
May 17, 2014 Jon 0 Comments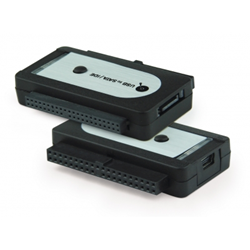 (PRWEB) February 23, 2014
Hiconn Electronics is a famous company offering various kinds of quality electronics products. Recently, the company has released its new range of USB 2.0 to SATA/IDE Adapters. Now, worldwide consumers can enjoy a one-stop shopping experience at its website. In addition, all the companys products are now offered at low rates, up to 28% off.
According to the CEO of the company, its experienced specialists are capable of creating almost all high end devices. Thus, Hiconn Electronics is providing thousands of useful items at its online store. All its products are available at competitive prices.
The followings are some details of the companys USB 2.0 to SATA/IDE Adapters:
–USB Mass Storage supported, Hot Swappable

–Support 3.5 inch SATA/SATA II HardDisk up to 750GB

–Support 2.5 inch IDE HardDisk, 3.5 inch IDE HardDisk, 5.25 IDE inch

–Supports IDE and enhanced IDE hard drives up to 400GB in size

–Supports ATA/ATAPI CD-ROM/R/RW DVD-ROM and more

–Supports ATA-4, ATA-6/ATAPI-6 Specification 1.0

–AC Power Adapter input : 100 ~ 240V, 50/60Hz, 0.5A

–AC Power Adapter output : 12V/2A, 5V/2A

–Support PC/ Mac OS/ Notebook

–Connecting SATA and IDE HDD together with HDD Splitter Power Cable.
Furthermore, all the companys new adapters are made according to customer needs. They have great performance. The company has a lot of experience in the industry. All its devices are carefully made with grade-A materials.
About Hiconn Electronics
Hiconn Electronics (Shenzhen Hiconn Electronics Co. Ltd.) is devoted to designing and manufacturing a wide range of connection cables and customized cable assemblies, offering many HDMI cables, VGA cables, SATA cables, USB cables, 1394 cables, DVI cables, SCSI (Small Computer System Interface) and more. For more information, please visit http://www.hiconn.net/.
Contact Person: James Yin (Sales Director)

Company Name: Shenzhen Hiconn Electronics Co., Ltd.

Address: Shenghua Building., Xixiang Road., Baoan District, Shenzhen, Guangdong Province, China

Zip Code: 518102

Tel: +86-755-8109 8345

Fax:+86-755-2779 3497
Similar Posts: