lettrs Raises $1.5M, Releases First Native iPad and Popular New iPhone App : files Drive
October 27, 2014 Jon 0 Comments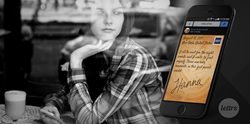 New York, NY (PRWEB) October 21, 2014
Today lettrs, the first social messaging platform to deliver signed private or public mobile letters, announces a $ 1.5M privately funded raise and the growth of its company, including the opening of a new Brooklyn-based headquarters. The company also releases its latest iPhone and new native iPad application for hand-signed messages that recreate personal letters for a mobile world.
The free iPhone app is an extension of its popular Android app, the premier global messaging platform for mobile-to-mobile letter writing that has experienced more than 10M lettrs impressions in the last 45 days.
Powered by the markets first-ever "social signature" which enables writers to hand-sign their messages, the iPad and iPhone versions of lettrs creates a writing desk for the digital age. iOS users can select writing filters, attach photos, and tags, now signed as digital memorabilia, to create lasting messages that are visually appealing, easy-to-read and meaningful.
Our new iPhone and iPad applications allow mobile users to discover the art of letter writingof slowing down, even in a mobile medium. We challenged the misconception that social messaging has to be disposable by making letter writing personal and valuable again, said Drew Bartkiewicz, the co-founder and CEO of lettrs. While other messaging apps seek to extinguish words, lettrs aims to distinguish them in a lasting mobile network.
The Iettrs new iOS apps include:

Similar Posts: