Magic Partition Recovery 2.0 Adds Windows 8 Support, Boosts Number of Recoverable Formats
March 21, 2013 Jon 0 Comments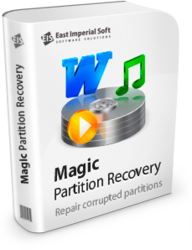 (PRWEB) March 20, 2013
East Imperial Soft announces a major update to its flagship data recovery tool, Magic Partition Recovery. Version 2.0 brings full Windows 8 support including 64-bit editions, increases the number of recoverable file formats to more than 200, and includes a new thumbnail preview mode for all supported formats.
Windows 8 Support
Magic Partition Recovery 2.0 was re-designed to fully support all builds and versions of the new Windows 8 OS. The new version of the data recovery tool can now be used on desktop, laptop and tablet PCs running 32-bit and 64-bit editions of Windows 8.
Recovers More Types of Files than Ever
Magic Partition Recovery can operate in two different modes, each with its own implications. In Quick mode, Magic Partition Recovery 2.0 can recover files of any type. This mode, however, makes use of the file system, and requires a working and possibly undamaged copy of the file system to be available on the disk.
The Comprehensive mode uses content-aware analysis, scanning the entire surface of the hard drive in order to locate many types of files by their characteristic signatures. While this mode does not require the presence of a file system, its ability to recover files is naturally limited by the list of supported formats.
Magic Partition Recovery 2.0 enhances content-aware analysis, adding support for a great number of new file formats. The re-worked content-aware analysis engine now supports more than 200 types of files in total, including documents, pictures, camera RAW files, compressed archives, emails and many other types of files. In addition, the re-worked disk scanner now works significantly faster than in versions 1.x.
Thumbnail Galleries
One of the signature features of Magic Partition Recovery was the ability to preview files before recovering. Magic Partition Recovery 2.0 develops this feature further, bringing the convenience of previewing recoverable information to an all new level. In version 2.0, Magic Partition Recovery can display thumbnail galleries of recoverable files, allowing the user to see which files are actually recoverable and which ones are corrupted or incomplete at a single glance. The new thumbnail preview mode significantly simplifies the choice of files to recover, and makes the entire recovery process faster, easier and more involving.
About Magic Partition Recovery
Magic Partition Recovery is an all-in-one, fully automated data recovery solution. The tool is designed to undelete deleted files and recover information from formatted, repartitioned, corrupted and inaccessible storage devices. Supporting a wide range of hardware, Magic Partition Recovery can be used to recover hard drives, SSD drives, as well as a variety of flash-based, attached and network storage types. Algorithms used in Magic Partition Recovery 2.0 allow surefooted recovery of information stored on badly damaged and corrupted partitions.
Compatibility
Magic Partition Recovery 2.0 supports all types of magnetic and flash-based storage media including hard drives and SSD drives, USB pen drives and memory cards. The tool also supports certain NAS and external storage systems if available as drive letters in the host OS.
Magic Partition Recovery 2.0 recognizes all versions of FAT and NTFS, and runs in 32-bit and 64-bit versions of Windows XP, Vista, Windows 7, Windows 8, as well as 2003 and 2008 Server.
Pricing and Availability
Magic Partition Recovery 2.0 is immediately available. North American pricing starts at $ 139. Local prices may vary. Evaluation download available free of charge from manufacturers Web site.
About East Imperial Soft
Founded in 2002, East Imperial Soft develops a wide range of data recovery tools for Microsoft Windows users. The companys wide range of recovery tools covers the needs of all types of users from complete computer novices to businesses and professionals doing data recovery. The company offers end-user solutions combining advanced technical capabilities with the level of usability allowing its products to be used by home users and data recovery professionals altogether.
# # #
An evaluation version of Magic Partition Recovery is available as a free download at http://www.magicuneraser.com/
Similar Posts: