Miller Recycling Shares Tips for Commercial, Manufacturing & Industrial Operations
October 5, 2014 Jon 0 Comments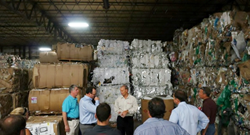 Mansfield, MA (PRWEB) July 17, 2014
Miller Recycling Corporation has helped find solutions to recycling and solid waste related problems. For over 70 years the company has been providing answers, through waste reduction, recycling, and implementation of efficient collection and processing systems.
Miller Recycling would like to share some tips on how to start a recycling and waste reduction program:
To perform a waste assessment, Miller Recycling suggests a thorough walk thru of your facility, noting the various types and amount of waste that is being discarded. A starting point would be at any type of collection container or compactors, where the actual trash is disposed of. Once the recyclable materials are identified, then an estimate on the monthly volume of each would need to be determined.
Should the company be producing a large volume of material (Cardboard, Paper, metals, and certain types of plastics) on a ongoing basis, it is time to contact a qualified recycling company to assist you with material collection and marketing.
Typically the company will obtain a proposal, suggest the best and most cost effective way to collect, divert, and recover the recyclable material. This may involve on site collection containers, compactors, or balers.
Once a decision is made educate all employees about the new recycling plan and procedures, and make sure to follow up and ensure that the procedures are being enforced. (Material needs to be properly segregated for maximum effectiveness of any such program.)
What are customers saying about Miller Recycling Corporation?
When I was looking for a company to assist us with reducing our solid waste disposal cost, our company contacted a number of Recyclers. We quickly realized we were in need of a business partner to work to efficiently reduce of disposal costs and increase our recycling rate. Miller Recycling was that company that understood that simple request. They have partnered with us to help understand the waste we generate (we have had several dumpster 'dives' to analyze our waste), and have helped us increase our recycle rate. They also assisted us with the secure collection and shredding of our confidential documents, files, and records, and have responded to every question we have asked them in timely professional manner. They truly are a business partner with our operation.
We are an ISO 14001 certified organization. Miller Recyclings organizations commitment to a greener earth is manifested by its actions, including its solar powered recycling facility to the materials they have assisted us with recycling. We appreciate their environmental stewardship.
Miller Recycling has truly become the business partner that I was hoping for when we started our journey. They have helped us achieve a 98%+ recycle rate, and pointed us in the right direction when we have had questions. Miller Recycling has helped us win a national company award for our environmental efforts.- Tom (Director of Facilities)
For more information on waste reduction and recycling programs in your workplace, please call: 1-800-783-6766 or email at info(at)millerrecycling(dot)com. Website information can be found at http://www.millerrecycling.com.
About Miller Recycling Corporation

Operating since 1940, Miller Recycling is a third generation company with the experience required to assist with all, paper, metals, plastics, and electronics recycling needs. Northeast Data Destruction, our NAID AAA Certified confidential shredding division, will securely process all your sensitive documents, files, media, hard drives, tapes, CDs, off spec products and storage components.
Similar Posts: