Oyen Digital Introduces U32 Shadow? 2.5″ USB 3.0 Portable Hard Drive Series
September 16, 2011 Jon 0 Comments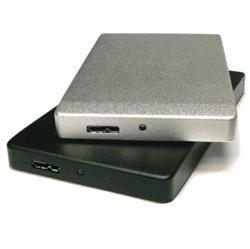 Saint Paul, MN (PRWEB) September 15, 2011
Oyen Digital LLC, a leading provider of high-performance storage solutions, announced the newest member to its family of portable hard drives – the U32 Shadow? 1TB USB 3.0 Portable Hard Drive. The U32 Shadow? is the slimmest 1TB USB 3.0 hard drive on the market today. The series features an attractive aluminum housing, measuring 4.9-inches x 0.48-inches x 2.9-inches, while providing reliable protection and maximum heat dissipation.
"We're pleased to offer the new U32 Shadow, which is designed for ultra-portability while delivering ultra-fast USB 3.0 transfer speeds," said Steve Oyen, Owner of Oyen Digital.
Oyen Digital's U32 Shadow? is bundled with a free 7GB Online Cloud Storage account from SpiderOak with additional cloud storage available at a 10% discounted rate.
The U32 Shadow? is stocked and shipped by Amazon.com. The product can also be purchased directly through Oyen Digital's website as well as authorized resellers.
U32 Shadow? USB 3.0 Product Details:
Capacities: 250GB to 1.0 TB

Dimensions: 4.9″ x 0.48″ x 2.9″

Guaranteed: 3 year warranty

Connection: USB 3.0

MSRP: starting at $ 64.95
Visit Oyen Digital for more information regarding the U32 Shadow? USB 3.0 Portable Hard Drive Series as well as the full line of Oyen Digital external hard drives and RAID systems.
About Oyen Digital, LLC:

Oyen Digital is an innovative developer and manufacturer in the portable storage industry, specializing in HD digital video, professional audio, and RAID storage. We are dedicated to developing groundbreaking technology products and have extensive knowledge and experience in audio/video production and mass storage. Headquartered in St. Paul, Minnesota, we have been active and successful in technology industries for the past 15 years. We offer a comprehensive suite of storage solutions through relationships with software manufacturers NTI and SpiderOak; hardware partners The Data Rescue Center, Oxford Semiconductor, and DataWatch; and through reseller arrangements with Hitachi, Toshiba, Western Digital, Seagate and Samsung.
###
Similar Posts: