PhotoFast Launches Faster, More Affordable i-FlashDrive Models at IFA 2014 : USB Drive
October 1, 2014 Jon 0 Comments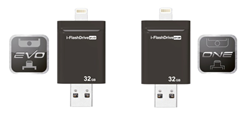 Berlin, Germany (PRWEB) September 06, 2014
PhotoFast, the designer and manufacturer of innovative, quality storage solutions and mobile accessories, announces today the launch of two new products called i-FlashDrive EVO and i-FlashDrive ONE at IFA 2014 in Berlin. The newest i-FlashDrive devices both come equipped with a brand new user interface as well as a new application.
The i-FlashDrive ONE is the worlds first ever i-FlashDrive to use USB 3.0 technology and provides the user with speeds up to five-times faster than previous models. This product is dedicated to reaching the limits of technology to bring a monstrous amount of power into a small, elegant design. The i-FlashDrive ONE will be available in 8 GB ($ 84.95), 16 GB ($ 124.95), 32 GB ($ 189.95), 64 GB ($ 319.95) and 128 GB ($ 499.95).
In addition to the i-FlashDrive ONE, PhotoFast wanted to bring its popular storage device to the mass market by developing a cost-conscious product. The i-Flashdrive EVO offers a more affordable option, without sacrificing optimal performance and data security. Available in 8GB ($ 69.96), 16 GB ($ 79.95), 32 GB ($ 99.95), 64 GB ($ 199.95) and 128 GB ($ 379.95), consumers have the choice of an advanced product, at an ideal cost.
We are very excited to see all of our hard work come together in time for the official launch at IFA 2014, said Deran Ka
Similar Posts: