Rise in SMB Midsize Server Usage, CBL Data Recovery Releases New Resource for Averting Common Mistakes in RAID or Server Crashes
June 4, 2015 Jon 0 Comments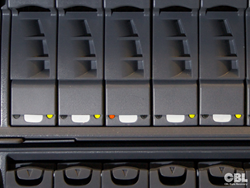 Atlanta, GA and Toronto, ON (PRWEB) May 05, 2015
CBL Data Recovery recently published insight on the most commonly made, preventable RAID recovery mistakes in response to an increasing number of midsize servers being used to consolidate data by small and midsized businesses today, as highlighted in a recent report published by IDC. The shift for companies to consolidate data is a result of relatively new and increasingly popular virtualization environments that have begun dominating the market of data storage solutions.
IDCs Worldwide Quarterly Server Tracker is used to provide the server industry with customer trends and market data. In its most recent report assessing trends in Q4 of 2014, IDC reported a 2.9% increase in worldwide server shipments, with midrange servers jumping up by 21.2%. The notably steep surge in midrange servers is reflective of the growing trend for companies to consolidate their IT infrastructure with the use of new virtualization environments.
President of CBL Data Recovery Tim Margeson discussed the new resource published to CBLs website, commenting, With the increasing number of SMBs turning to midsize servers, we have received more and more requests from IT service providers needing our support with a client who tried rebuilding a failed RAID array, or tried restoring an incomplete or old backup to fix a server crashnot realizing their restoration attempts were actually worsening the issue and in many cases making a full recovery impossible. He continued, Considering the findings in IDCs recent report, we recognized a great need for increased awareness and more resources to help SMB owners prevent and properly respond to server failure and RAID arrays.
The article, Preventing Data Loss from a RAID or Server Crash, was published by the data recovery specialists on April 14th and is intended to teach the growing number of midsize server users how to circumvent the detrimental loss of data that could result from a failure. The key message emphasized in the article is that all serversno matter the configuration or RAID levelwill fail at some point in time; its only a matter of when. The solution according to CBL, is to act with haste. The article instructs owners to order a replacement hard drive as soon as the first one fails, and moreover describes the risks that could ensue if the issue is neglected.
In addition to information on responding to server failure and RAID replacement, CBL Data Recovery's article details the appropriate measures of maintenance and upkeep, as well as the importance of, and tips on backing data up. While crashes may be inevitable, CBL comments that proper upkeepincluding IT staff checkups, backups, and timely disaster response following an incident, can all help avert premature and preventable server failure.
Find more information about RAID array failure prevention in CBL Data Recoverys article at: http://www.cbldatarecovery.com/blog/data-recovery/preventing-data-loss-raid-server-crash.
About CBL Data Recovery:
Established in 1993, CBL Data Recovery is a leading international provider of computer data recovery services for clients experiencing data loss due to hardware failure, natural disaster, software corruption, virus contamination or human error. CBL employs proprietary techniques to recover data quickly and effectively from a wide array of media including hard drives of laptops, personal computers, servers, RAID arrays and SAN/NAS systems, tapes, and other magnetic or optical media. CBL offers services through its global network of data recovery laboratories, customer service centers and authorized partners.
Similar Posts: