Rural Physician Bus Tour Brings Health IT Resources to Central and East Georgia
July 8, 2014 Jon 0 Comments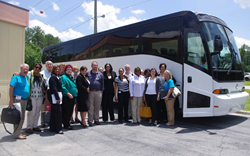 Cumming, GA (PRWEB) July 02, 2014
HomeTown Health, along with other physician health information technology experts, traveled to seven south central Georgia cities on June 24 and 25. In each city, a hospital served as host for local physicians to meet with the group of representatives and receive assistance, answers and advice.
Referred to as the "Rural Physician Bus Tour," the event is designed to bring together Health Information Technology resources with primarily Physicians and Practice Managers, giving them the opportunity to assess the progress of the practice in the Meaningful Use attestation process. They also receive assistance with questions related to Medicaid Incentive payments, provider enrollment, and reimbursement issues.
The driving force behind the creation of the bus tour is the urgent need to provide rural physicians with technical assistance with the Meaningful Use attestation process required to receive their Medicaid Incentive funds. The Stage One attestation deadline for Meaningful Use Attestation or Hardship Exemption is July 1, 2014 in order for physicians to avoid penalty in 2015.
Kathy Whitmire, HomeTown Health's managing director, comments on the success of the first in what they plan to be a series of tours. "In just two days, the Bus Tour reached physician practices representing over 120 eligible professionals needing technical assistance with Meaningful Use. In addition, over 30 Hardship Exemptions were filed for physicians that have not been able to implement an electronic health record thus far, hopefully preventing a 1% penalty for them in fiscal year 2015."
Equally important to the group is the need to raise physicians awareness of secure messaging and health information exchange and the vital role it plays in coordinated care and improved health outcomes of their patients. Education on other areas such as Medicaid Incentive Program, Direct Messaging, Health Information Exchange, and the transition to ICD-10 was also provided to participating physicians.
The tour bus included visits to Upson Regional Medical Center in Thomaston, Taylor Health System for Hawkinsville, Dodge County Hospital in Eastman, Dorminy Medical Center in Fitzgerald, Appling Hospital in Baxley, Effingham County Hospital in Springfield and Emanuel Medical Center in Swaisboro, Georgia.
About HomeTown Health

HomeTown Health, LLC is an organization of more than 70 rural and small hospitals, located throughout the southeast, which collectively pursues ways to help our hospitals survive in this environment of tremendous budget cuts from the state and federal level. The mission of HomeTown Health is to ensure that rural healthcare is preserved at the local community level wherever possible and that a continuum of care is available to the rural populations. For more information, visit http://www.hometownhealthonline.com.
Similar Posts: