Simpleworks Stays Ahead of New IT Solutions – Leading Colorado Springs IT Company Attends National Datto Partner Conference
June 21, 2014 Jon 0 Comments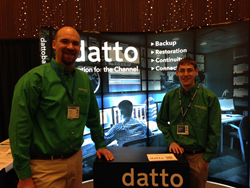 Colorado Springs, CO (PRWEB) June 19, 2014
At the Datto Partner Conference in Las Vegas, Simpleworks technicians were introduced to and trained in new features of Datto hardware that will make it even more secure and efficient.
The advanced training equipped me with the knowledge necessary to start scripting and automating processes on the Datto devices, said Matthew Murphy, an IT specialist at Simpleworks. These automating processes will provide better standardization and ease of management.
There were also several new solutions introduced that will improve service and reliability. Datto announced two new systems that take advantage of the power of new drive technology. Siris 2 and Datto NAS both use solid state drives, which will improve performance, and the cloud infrastructure for offsite backups is being migrated to solid state drives as well. These improvements will mean faster response time for customers who cant afford delays in their IT systems. Datto also announced the release of Virtual Siris, the first Datto solution that does not require Dattos hardware.
Having attended several similar conferences in the past, I wasnt quite sure what to expect since this was our first time at Datto, but I was pleasantly surprised at not only the amazing content and resources that were involved, but also the large amount of effort that went into making it fun. They kept a pretty relaxed schedule, had lots of humor built into the presentation, and went the extra mile by bringing in video games, air hockey and ping pong for a Throw Back Thursday party, said second Simpleworks representative Aaron Chaote.
Finally, the Simpleworks team attended HIPPA training to demonstrate Dattos ability to keep digital information secure. Dattos data transfer methods are HIPAA compliant, and they support encrypting agents.
Currently over 50% of our customers are healthcare providers, said Murphy. So we recently purchased software to run compliance scans, including HIPAA compliance scans. This means we can assist with HIPAA audits and bring our customers up to compliance standards.
Simpleworks continues to stay ahead of new technology so that their customers receive the best IT services in Colorado. Their implementation of new IT solutions assures their customers that their data is safe, that their systems are operating efficiently, and that they are protected from viruses and crashes. Simpleworks will continue to lead the way as IT technology adapts and advances to the ever-changing digital landscape.
Simpleworks is Colorado Springs most trusted IT Support company. We support the technology needs of all sized businesses and residential customers in Southern Colorado. Whether you need help managing your business IT systems, need new high-end servers, phone equipment or data backup solutions, or your computer is infected with Viruss, Simpleworks is on call and ready to help you at any time. Just call our IT support team or visit our website at SimpleworksIT.com today!
More Files Drive Press Releases
Similar Posts: