Stanford Cloud Workshop at the Computer History Museum Reveals Hardware and Software Innovations to Power the Future of Cloud Computing : Samsung Hard Drive
March 9, 2014 Jon 0 Comments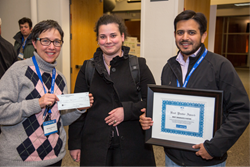 Los Gatos, CA (PRWEB) January 08, 2014
The Industry-Academia Partnership (IAP) conducted the 2013 Stanford Cloud Workshop at The Computer History Museum in Mountain View, California on December 6 with the theme "Meeting the Future Needs of the Data Center and Cloud". The IAP is a new association formed to address the revolutionary changes required for the underlying hardware and software as multi-core compute, storage and networking converge for the future data center and cloud.
Workshop Organizers included Professor Christos Kozyrakis of Stanford University, Paul Rad of Rackspace, and Dr. Jim Ballingall, IAP Executive Director.
Speakers from industry and academia described their research and development efforts underway to meet the future needs of the data center and cloud.
In addition to Stanford University, the Electrical Engineering, Computer Science and Computer Engineering departments from Carnegie Mellon University, San Jose State University, UC Berkeley, and the University of Toronto were represented.
The Storage Solutions session covered future approaches to server memory solutions and the data center memory hierarchy.

Similar Posts: