Susquehanna Health Sports Medicine Making An Impact on Concussion Management
June 24, 2014 Jon 0 Comments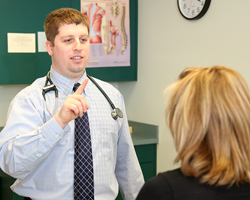 Williamsport, PA (PRWEB) June 11, 2014
With financial commitments for future research nearing the $ 100 millions and a recent summit at the White House to discuss future initiatives, concussion in youth sport remains a hot topic both on and off the athletic fields. Susquehanna Health Sports Medicines Dr. Edward Gusick believes the timing is right for researching ways to improve safety in youth sports, especially now that concussions are becoming more common.
Increasing awareness of concussions is important because the faster you intervene, the better the chance for reducing disabilities long-term, he said. In the last two years, Dr. Gusick has treated 475 patients for concussions, the majority of whom are adolescents through young adults (ages 8 through 18).
Dr. Gusick attributes an overall increase in the number of concussions to improved awareness as well as the trend for todays young athletes to be faster and stronger than in the past. I believe we recognize concussions more today because of the current research and legislation. What might have been presumed as just a headache 10 to 20 years ago is now labeled differently, he explained. Not only are todays youth faster and stronger, they have an increased drive to succeed. This is a reality that opens up the debate on whether children are playing sports too early, before their head-to-neck ratio is balanced and they are able to protect themselves from injury.
Concussion is defined as a brain injury that results from such things as a fall, bump or blow to the head. The signs and symptoms of a concussion include loss of consciousness, confusion, headache or pressure in the head, balance problems or dizziness, difficulty concentrating, nausea, feeling sluggish/foggy/groggy, sensitivity to noise or light, blurred vision, slowed reaction time, sleep disturbances or personality/mood changes. Managing a concussion at the onset helps prevent long-term effects like Second Impact Syndrome that, although rare, can occur when an athlete who suffered a concussion returns to sport too quickly and suffers another concussive event. The results can be devastating, even fatal.
SH Sports Medicine proactively provides healthcare to young athletes on the field through placement of 16 licensed athletic trainers (AT) at the high school and college levels. Among many other things, these professionals are trained and certified in the evaluation and management of concussions. Hughesville High School Athletic Trainer Brian Duke has a unique on- and off-field advantage in developing day-to-day relationships with student athletes that help him more easily recognize symptoms through observation.
In addition to sideline evaluation and balance testing, the ATs utilize the computerized neurocognitive test, ImPACT, as a tool for diagnosing concussions and determining when an athlete can return to play. All of our student athletes complete baseline testing preseason [using ImPACT], said Duke. This baseline is valid for two years and used for comparison if the athlete receives an injury to the head that could be concussive. Even if someone doesnt have a baseline test to compare to a post-concussive test, there is still annotated data [based on age and gender norms] we can compare with results, he explained.
On the sideline or in the training room, if the AT suspects an athlete may have a concussion they perform an evaluation that includes orientation questions to check for memory loss and balance testing. If the athlete exhibits symptoms of concussion, they are sidelined for the day and the AT completes a SCAT card (Sports Concussive Assessment Tool) to rate the athletes symptoms on a six-point scale. If a concussion is considered or diagnosed, the AT refers the athlete to Dr. Gusick or the primary care physician for further evaluation. Following physician evaluation, the athlete receives a letter detailing their level of participation in sport along with helpful handouts and recommendations for physical and mental rest.
The AT, with parent permission, alerts the principal, teachers and school nurse about the injury so they can accommodate recovery and watch for symptoms. Once the athlete is symptom-free for 24 hours, he or she is given the post-concussive ImPACT test and acceptable scores are submitted to the physician to review and interpret before progressing to return to play. With physician approval, the AT walks the athlete through a graded return to play that is typically a five-day process including aerobic workout, anaerobic workout, increased aerobic/anaerobic workout similar to on-field then return to play. The athlete must be symptom-free for 24 hours with each step before we move on to the next step. If not, we slow down and that step is repeated, Duke explained.
Awareness is enabling us to identify athletes whose injuries may have gone unnoticed in the past, said Duke. ATs typically educate parents and athletes about concussions during regular preseason meetings held in their respective schools. In addition, Dr. Gusick has spoken at community outreach events including a fall sports seminar and a Montour Junior Athletic Association meeting to educate the public about concussions. Increased awareness is also helping in cases of concussion that may occur away from school and the athletic field, said Duke. Its a good thing to be able to make that information available.
For more information about concussions, contact Susquehanna Health Sports Medicine at 1-800-321-2946 or visit online at SusquehannaHealth.org/SportsMed.
About Susquehanna Health

Susquehanna Health is a four-hospital integrated health system including Divine Providence Hospital, Muncy Valley Hospital, Soldiers + Sailors Memorial Hospital and Williamsport Regional Medical Center located in North Central Pennsylvania. Serving patients from an 11-county region, Susquehanna Health is a healthcare leader and has been recognized at the national and state levels for quality of care. Susquehanna Health offers a wide array of services that include cancer care, heart and vascular care/heart surgery, neurosciences including neurosurgery, orthopedics, urology, OB/GYN, gastrointestinal services, behavioral health, physical rehabilitation, home care, long term care, assisted living and paramedic/ambulance services.
Find More Memory Cards Press Releases
Similar Posts: